Market Review - Sihle Ndhlala
May 2020
The US, Europe and South Africa, among others, have begun easing lockdown measures. Most businesses and schools are resuming operations. Productivity levels still not at full scale. Mines like AngloGold Ashanti had to shut down some underground operations after a number of their employees tested positive for the Coronavirus.
Local Markets
The healthcare sector at the top this month, led by Aspen with a positive 20.8% return for the month. The rand gained 5% against the dollar – ending the month at 17.5/$. The All Bond Total Return index jumped 7% while property extended losses by 1.2%.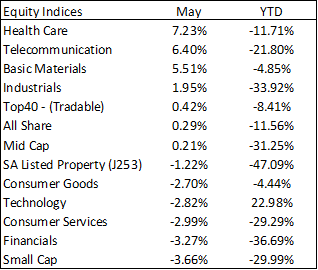 Financials sill negatively impacted by the economic environment and interest rate cuts issues by the South African reserve bank – now at 200 basis points for the year. 22% of shares in the Top40 index are positive in 2020. The biggest winner is Gold Fields (43%) followed by Prosus (35%) and the biggest loser this year so far is Redefine Properties (-74.6%)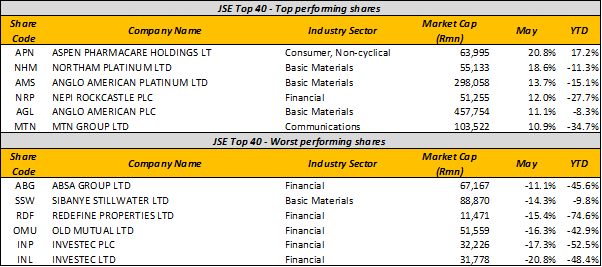 International Markets
The Nasdaq Composite Index now sits at a positive 5.6% return for the year. Other indices remain in the red; it might be a while before we see a full recovery across all global markets.

Emperor Asset Management
Emperor's lower risk portfolios came on top in the month. These are more exposed to bonds and other fixed income instruments. Our momentum portfolio ended the month at a -2.3%, bringing down the performance of our segregated portfolios. With the stronger rand, our rand denominated international bundle returns were about flat.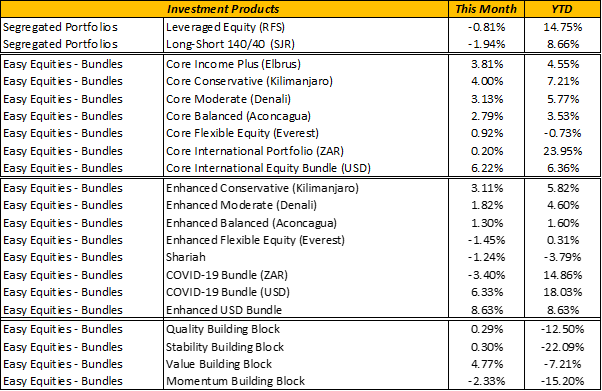 All Performance data sourced from Bloomberg on 31 May 2020.
Happy investing!
Sihle Ndhlala
Junior Fund Manager
Disclaimer:
Terms and conditions apply. Emperor Asset Management (Pty) Ltd is an authorised financial services provider (FSP no. 44978). The value of a financial product can go down, as well as up, due to changes in the value of the underlying investments. An investor may not recoup the full amount invested. Past performance is not necessarily an indication of future performance. These products are not guaranteed. Examples are for illustrative purposes only