Market Review – March 2021
Local Markets
The South African rand strengthened 2.3% against the Dollar in the month and it is 0.55% weaker this year. Emerging markets index is 1.7% lower in March and 1.95% stronger in 2021. The Telecoms sector soared 13% taking its year to date return to over 28%.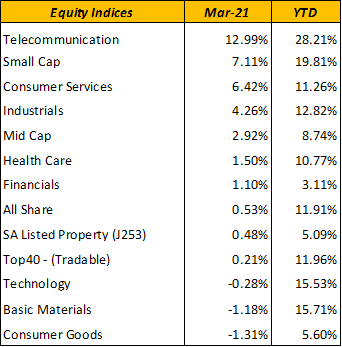 Sygnia announced its co-founder and joint CEO Magda will step down effective end of May 2021 but will remain in the company as a non-executive director. Shoprite has launched its own prepaid mobile network operator called K'nect Mobile, which is set to be implemented in April; Pick n' Pay launched a similar service called PnP Mobile in November 2020. MTN has secured a contract with the local government to supply 1.2 million state employees.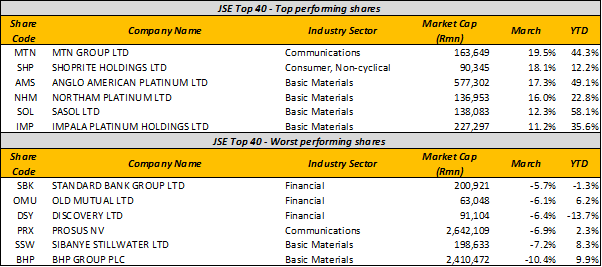 Discovery is setting up 20 large vaccination sites and hopes to vaccinate all of its members starting from May. The scheme has over 3 million members and will target high risk members first.
International Markets
Amazon boss Jeff Bezos announced he will resign as chief executive officer of Amazon.com Inc and become executive chairman later this year; reigns will be handed to the head of Amazon Web Services, Andy Jassy. Following plans announced in February, Tesla has officially began accepting Bitcoin as payment for its electric autos. Below are some index returns in USD and ZAR in the last month.

Emperor Asset Management
Our dollar denominated portfolios declined the most in March, our best performing portfolio is the Leveraged Equity, up 1.8%, this portfolio takes both long and short positions. Our current top 3 holdings are Prosus (21%), Richemont (8%) and Naspers (5%).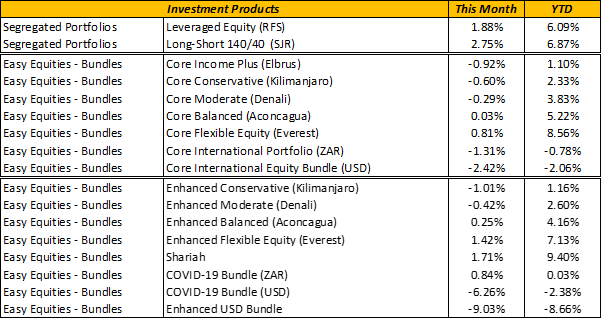 All Performance data sourced from Bloomberg on 31 March 2021.
Happy investing!
Sihle Ndhlala
Junior Fund Manager
Disclaimer:
Terms and conditions apply. Emperor Asset Management (Pty) Ltd is an authorised financial services provider (FSP no. 44978). The value of a financial product can go down, as well as up, due to changes in the value of the underlying investments. An investor may not recoup the full amount invested. Past performance is not necessarily an indication of future performance. These products are not guaranteed. Examples are for illustrative purposes only