Market Review - Sihle Ndhlala
January 2020
The outbreak of the deadly coronavirus in China is shaking markets worldwide. The major fear, apart from the human cost, is that global trade will slow down markedly, although at this point it is too early to assess the impact. The quarantine has had a drastic impact on both manufacturing production and consumer spending.
You can see the impact in the table below. Although technology so far have come out unscathed, both developed markets and developing markets ( the emerging markets index was down 4.69%) had a negative month.

Here in SA, problems halfway across the world appear to have had only a limited impact on markets during January. While the Rand fell 7.3% against the Dollar, JSE equities were down only 1.8%, and bonds actually rose by 1.2%. Listed property, with a 3.1% drop, continued its dismal downwards trajectory from 2019.

Among JSE sectors, technology was the standout performer with a 6.58% return for the month. The other sector with a positive return was consumer goods (+1.33%). The two worst performing sectors were industrials (-6.1%) and financials (-5.26%). It can be argued that much of this damage is short-term in nature, directly the result of a more general risk-off attitude among investors worldwide while they assess the impact of this virus outbreak.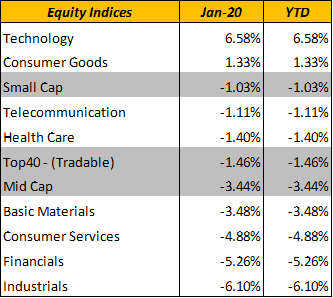 We can see in the JSE Top 40 Index top performers are British American Tobacco (+10.3%) -- a classic risk-off stock -- and the precious metals stocks (Sibanye and Gold Fields), also regarded as defensive havens in times of market turmoil. And rand weakness certainly aided the good showing of Naspers and its spun-off international assets in Prosus.
On the downside, we know all about the operational problems at Sasol -- which prompted another terrible 21.2% drop in the stock. And overall weakness in consumer spending (and business sentiment) was reflected in the bad numbers shown by banks and companies like Woolworths. Overall, it was a month for stock-pickers, the results of which can be seen below in Emperor's managed portfolios and Easy Equities bundles.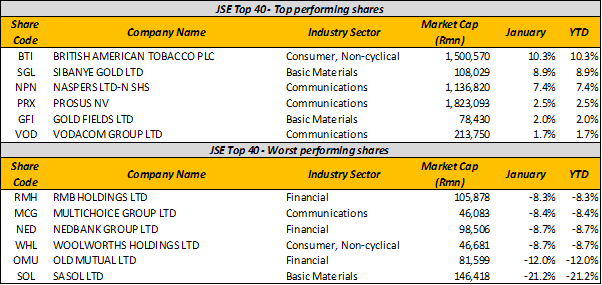 LEVERAGED EQUITY (RFS)
Given the generally negative investment environment, the fund did exceptionally well with a 8.05% return.
LONG- SHORT 140/40 (SJR)
Another good showing by the fund, up 6% in January. International technology stocks provided strong impetus, with help from SA gold miners. On the downside were basic materials stocks with high exposure to Chinese demand such as Kumba Iron Ore.
EASY EQUITIES BUNDLES
The core international portfolio (with a lot of assistance from the weaker rand) shot out the lights, with strong performances also by more defensive bundles with conservative, moderate, balanced, or flexible mandates. Overall, the bundles had a very good showing, with only two building blocks showing negative returns in January.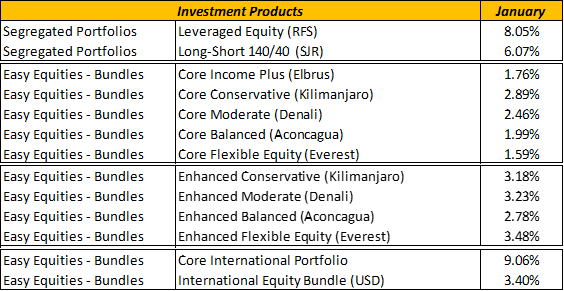 All performance data sourced from Bloomberg on 31 January 2020.
Happy investing!
Sihle Ndhlala
Junior Fund Manager
Disclaimer:
Terms and conditions apply. Emperor Asset Management (Pty) Ltd is an authorised financial services provider (FSP no. 44978). The value of a financial product can go down, as well as up, due to changes in the value of the underlying investments. An investor may not recoup the full amount invested. Past performance is not necessarily an indication of future performance. These products are not guaranteed. Examples are for illustrative purposes only